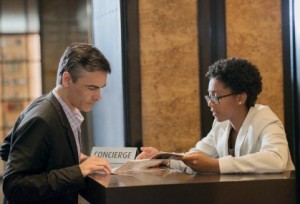 CHAPMAN Concierge's Award-Winning Residential, Healthcare and Corporate Concierge Practices, are built on a pedigree of 25 years of luxury service experience. Our partners experience less stress, better work/life balance and increased productivity as a result of implementing our lifestyle management programs. Here's how we can work for you:
Residential Concierge Services include our complete line of Lifestyle Management Services and are designed to enhance the community living experience. Distinguishing your property in today's market through service and relationship-building is critical to long-term success. Creating a distinctive living experience through a complete, elite concierge service allows that to happen. While the idea of this service is not unique, customizing a solution to the needs and demands of each property and client is unique. Our program portfolio includes Concierge Service, Vending and Tenant Relations.
Healthcare Concierge Services for Employees, Patients, and Visitors. Creating a total caring and healing environment begins with valuing people. When people are valued, respected and acknowledged they become loyal advocates for your mission. A total caring environment is one in which patients, visitors, employees, physicians and the surrounding community are assured of compassion, courtesy, dignity, quality clinical care and integrity. CHAPMAN offers a customized, holistic approach to providing healthcare concierge services that will enhance a superior clinical care delivery system. Our vision is for each of our clients to be the Healthcare Provider of Choice as well as the Healthcare Employer of Choice.
Corporate Concierge Services include personal concierge and errands for corporate employees. We can also handle Corporate Business Services such as Customer and Employee Appreciation Programs, Relocation and Tenant Services. To be competitive in today's workplace, companies must offer a variety of individual employee services to attract and retain talented top-producers.  CHAPMAN Concierge offers a customized approach to addressing every company's unique needs and distinctive culture.  By tailoring our programs to each client we are focused on what specific services will best meet each company's needs and distinct culture.  We consider our clients to be partners in meeting their employees and tenants needs.
Personal Concierge Services offer busy individuals the opportunity to outsource various aspects of their lives so they achieve a balance between work and home. Whether it's a regular service or a one-time emergency need, we offer customized solutions based on  individual requirements. From organizing closets and cabinets, mailing packages, cleaning and organizing your home from top to bottom, inside and out – our Personal Services division, errands plus, aims to reduce your daily stress by taking care of the details of your life, so you can enjoy.  Our goal is to simplify your life and give you the peace of mind that every request will be handled proficiently with warmth, grace and style.
Contact us today to Request Information on our concierge services.