Learn about Cruising and fantastic specials during Plan A Cruise Month

Chapman Concierge Travel is happy to announce October is Plan A Cruise Month.  Created by Cruise Lines International Association, the world's most significant cruise industry association, Plan a Cruise Month, puts a spotlight on waterway travel and offers marvelous vacation deals and promotions throughout October. Throughout October, CLIA encourages travelers to learn more about cruise vacations, as well as promote cruise-focused travel professionals as the best way to find, plan and book a cruise.  There is a waterway vacation for every travel, style, budget, and occasion.
October is a Key Time for Travelers to Plan a Trip on a River or at Sea
More and more people are turning to cruises to provide them with an all-inclusive, stress-free vacation option, as they have so much to offer – from fantastic dining experiences, Broadway-caliber entertainment and waterparks to the ability to visit multiple destinations in a single trip without having to unpack and pack your belongings more than once. We have found once our clients take a cruise, they fall in love with these vacations. And now we can help share the love of cruising by helping everyone to take advantage of the great offers and deals from our industry partners through October.
When compared to a land vacation, cruising offers a number of benefits
A cruise experience offers the opportunity to experience the world as you choose. Whether you're looking to spend a week relaxing with family in the Caribbean or swim among dolphins of the South Pacific, cruising offers a world of opportunity.
You can tailor your experience based on your budget, selecting specific accommodations, dining arrangements, and even shore excursions. Most cruises already include dining, entertainment, and gratuities, offering options for even the most cost-conscious traveler.
For those looking to indulge a bit more, many cruises offer additional premium dining options, entertainment and even exclusive spaces, such as spas, pools, and restaurants.
A week onboard one cruise ship will offer you a chance to experience a number of enticing destinations, across the globe. In one week, many ships sailing through the Caribbean will bring guests to four exciting ports of call, whereas a land-based resort only offers the same destination each day.
A cruise experience offers you the ability to experience as much, or as little of the world as you prefer as well as the most flexibility in pricing, allowing all travelers the opportunity with their preferred budget in mind.
Reasons to use a Travel Agent to book a Cruise Vacation
Did you know almost 70% of cruise travelers take advantage of the expertise of a travel agent to book a cruise vacation? Plan a Cruise Month is a perfect time to connect with a CLIA certified travel agent to learn more about this fantastic campaign. Many premier lines are offering special promotions and pricing on popular cruises to encourage consumers to plan their next cruise vacation during October.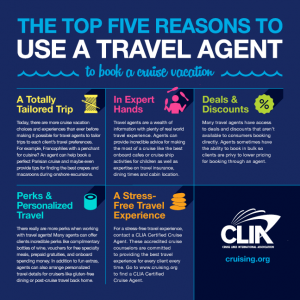 We will be posting specials for the remainder of the month so don't forget to follow us on Social Media to take advantage of incredible deals throughout Plan A  Cruise Month.
For more information, please contact your Lifestyle Services Specialist at 973.889.0064 or visit the Concierge Desk.
To learn more about the CLIA Visit Here
Looking for Travel Inspiration?  Follow our Travel Boards on Pinterest Here or Follow our Travel Tips and Tricks Blog Here.