Art in the Afternoon at the Montclair Art Museum for Senior Citizens.
When:
May 9, 2018 @ 2:00 pm – 3:30 pm
2018-05-09T14:00:00-04:00
2018-05-09T15:30:00-04:00
Where:
Montclair Art Museum
3 South Mountain Avenue
Montclair
NJ 07042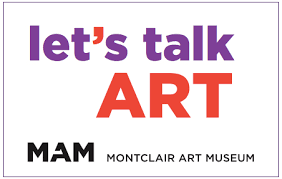 Montclair Art Museum invites area seniors for an artistic, social outing. Participants will enjoy an opportunity to learn about and creatively respond to art from the permanent collection and temporary exhibitions. Each session will feature tours and engaging conversations in the galleries and thematically related art activities in Leir Hall. Refreshments will be served. Art in the Afternoon is held every second and fourth Wednesday of the month from 2:00 pm – 3:30 pm.
To make a reservation for Art in the Afternoon, please call 973-259-5136 or contact tours@montclairartmuseum.org
Art in the Afternoon is offered in partnership with the Montclair Institute for Lifelong Learning (MILL), an initiative of Lifelong Montclair funded by the Partners for Health Foundation.
For more information visit Here.
About the Museum
"Montclair, as generously endowed by Nature, may be enriched by Art and so rendered even more attractive as a select residential town"
–William T. Evans (1909), Montclair civic leader who presided over the commission that led to the founding of the Montclair Art Museum. He was the largest collector of American art up to World War I.
The Museum was a pioneer: one of the country's first museums primarily engaged in collecting American art (including the work of contemporary, nonacademic artists) and among the first dedicated to the study and creation of a significant Native American art collection. This pioneering spirit still reverberates in the Museum's pursuit and presentation of high-quality art that characterizes and celebrates America's diversity, including the recent launch of its Contemporary Art Program, in 2010, providing MAM an opportunity to showcase dynamic contemporary work and expand the Museum's contemporary art holdings. A main feature of the MAM program is to explore the interplay between historical and contemporary art to enrich our understanding of the larger historical context in which art is created, presenting work that is both challenging and accessible.
Equally important for its community presence and its reputation are the Museum's public and family programs and art school, serving everyone from toddlers to senior citizens. Collaborations with numerous cultural and community partners bring artists, performers, and scholars to the Museum on a regular basis. Guests have included Holland Cotter, John Elderfield, Bill T. Jones, Jeff Koons, Faith Ringgold, Winfred Rembert, Kiki Smith, Philip Pearlstein, Shirin Neshat, and Lorna Simpson. More than 10,000 K–12 students from 190 school districts visit the Museum every year. Free Family Days, a Family Learning Lab, MAM Park Bench, Home School Days, and Birthday Parties allow families to experience art in a variety of different ways. As the New Jersey affiliate of the Scholastic Art & Writing Awards, MAM opens opportunities to creative teenagers to gain national recognition for their work. The Museum also provides programs for seniors and special needs individuals—such as the hearing impaired and people with Alzheimer's—as well as training for teachers in the arts.
The first institution in New Jersey designed as a museum and one of the first in the nation to be accredited by the American Association of Museums, the MAM as it marks its Centennial, continues to seek novel ways, through its exhibitions, education programs, and outreach efforts, to inspire and inform its growing and ever more diverse audiences.