Cape May Film Festival
When:
April 6, 2018 – April 8, 2018
all-day
2018-04-06T00:00:00-04:00
2018-04-09T00:00:00-04:00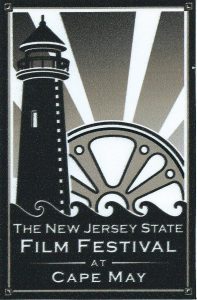 Cape May Film Festival
April 6 – April 9th
Cape May Film Society
The West Cape May Borough Hall and Banquet Hall
732 Broadway
West Cape May
http://newnjstatefilmfestival.com/
The Cape May Film Society is committed to making its programs and facilities accessible to everyone. Our programs are made possible in part by a grant administered by the Cape May County Culture & Heritage Commission, from funds granted by the New Jersey State Council on the Arts.
This weekend film festival is committed to the presentation of creative, challenging, ground-breaking work by New Jersey filmmakers and films with New Jersey or World Premiere status. It's a juried festival, showing only the best of dozens of entries. The film festival is a three-day event celebrating the best New Jersey films and filmmakers, screening a full day of short films, features, documentaries and local films. Along the way, attendees have the pleasure unique to film festivals of meeting face-to-face with the directors, actors, producers, screenwriters, and composers who are the makers of these films.