Christmas Festival at the Morristown Green throughout December
When:
December 8, 2017 @ 2:00 pm – 8:00 pm
2017-12-08T14:00:00-05:00
2017-12-08T20:00:00-05:00
Where:
Morristown Green
Morristown
NJ 07960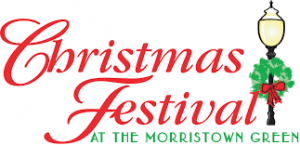 Christmas Festival at the Morristown Green
Generations of residents and visitors have come to the heart of downtown Morristown to enjoy the magic of the season at the annual Christmas Festival. While it all began when a small group of volunteers lit a single star atop one tree on the Morristown Green, the tradition grew to include a Santa House and various seasonal décor. With growing frustration from the constituency to upgrade the aesthetics of the Green and the Town during the holiday season, Morristown Partnership agreed to inherit the responsibility this growing tradition entailed. Nearly seventeen years ago, upon securing a Grant to underwrite the cost of a major electrical overhaul of the Morristown Green itself, the Christmas Festival at the Morristown Green as we know it today was born. Decorating various parts of the downtown including the lit wreaths on town-wide lampposts ensued as well.
Families and individuals that grew up in this community and have since lived in various places in the U.S. and abroad make it a point to contact the Morristown Partnership each year to get the schedule of activities that are to take place on the Morristown Green during the holiday season. For them and many others, Morristown is their destination of choice to celebrate the holiday traditions. The beauty of downtown Morristown will entice people from near and far to shop, dine, be pampered, enjoy a wide variety of entertainment, and visit at a pace reminiscent of years gone by. Visit www.morristown-nj.org for full seasonal details as well as Mayo Performing Arts Center, Morris County Tourism Bureau, Morris County Park Commission, and First Night® Morris.
Christmas Festival at the Morristown Green
Who: Presented by the Morristown Partnership, NJ.com, Rosewood, Century 21 Stores, Signature Place, Atlantic Stewardship Bank, Jersey Central Power & Lighting, Cambria Hotels & Suites, TEAM, 40 North, Bath Fitter,  Morristown Medical Center, Hyatt Regency Morristown, and The Star-Ledger. This event is entirely privately funded by grateful event sponsors, many local businesses and organizations who provide in-kind support including the gifts found in Santa's Goody Bags, and the individuals and organizations that provide activities & entertainment for all to enjoy free of charge.
Greater Morristown offers plenty of weekend fun indoors, too: Art exhibitions, concerts, comedies, iLuminations–you can use event hunt for ghosts. The month-long celebration will feature Santa visits and activities every weekend.
http://www.morristown-nj.org/special_events.html   https://www.morristownfestival.com
Christmas Festival Schedule
Friday, Dec. 1
Santa House
2 to 8 p.m. – Santa visits and photos*
Saturday, Dec. 2
Santa House
Noon to 7 p.m. – Santa visits and photos*
Tent
1 to 3 p.m. – Gingerbread house making
1 to 5 p.m. – Sponsor Exhibitor: Bath Fitters NJ
5 to 7 p.m. – Holiday Performances with the Original Music School
Outdoors
2 to 5p.m. – Ice sculpting demonstration
2 to 6 p.m. – Miniature train rides
Sunday, Dec. 3
Santa House – Noon to 7 p.m. – Santa visits and photos*
Tent – 1 to 4 p.m. – Pinot's palette popsicle stick ornament making – 5 to 7 p.m. – Holiday Performances with the Original Music School
Outdoors – 2 to 6p.m. – Miniature train rides
Friday, Dec. 8
Santa House – 2 to 8 p.m. – Santa visits and photos*
Tent – 3 to 5 p.m. – Holiday crafts with the Morris Museum
Saturday, Dec. 9
Santa House – Noon to 7 p.m. – Santa visits and photos*
Tent – 1 to 3 p.m. – Thomas Nast ornament making by MacCulloch Hall Historical Museum
1 to 5 p.m. – Sponsor Exhibitors: The Education Association of Morris & Bath Fitters NJ
5 to 7 p.m. – Holiday Performances with the Original Music School
Outdoors – 2 to 5p.m. – Ice sculpting demonstration
2 to 6 p.m. – Miniature train rides
Sunday, Dec. 10
Santa House
Noon to 7 p.m. – Santa visits and photos*
Tent
1 to 4 p.m. – Pinot's Palette popsicle stick ornament making
5 to 7 p.m. – Holiday Performances with the Original Music School
Outdoors
2 to 3 p.m. – Caroling on the Green by Brightest Star Select Chorus
2 to 6 p.m. – Miniature train rides
Friday, Dec. 15
Santa House – 2 to 8 p.m. – Santa visits and photos*
Tent – 4 to 5 p.m. – Morristown High School Marching Band – performing a Christmas Carol variety
Saturday, Dec. 16
Santa House
Noon to 7 p.m. – Santa visits and photos*
Tent
1 to 5 p.m. – Sponsor Exhibitors: Bath Fitters NJ
1 to 3 p.m. – Mayo Performing Arts Company – singing holiday favorites
4 to 6 p.m. – Gingerbread house making
Outdoors
2 to 5.m. – Ice sculpting demonstration
2 to 6 p.m. – Miniature train rides
Sunday, Dec. 17
Santa House
Noon to 7 p.m. – Santa visits and photos*
Tent
1 to 4 p.m. – Pinot's palette popsicle stick ornament making
1 to 5 p.m. – Sponsor Exhibitors: The Education Association of Morris
5 to 7 p.m. – Holiday Performances with the Original Music School
Outdoors
2 to 6 p.m. – Miniature train rides