Maple Sugaring Demonstrations
When:
February 18, 2018 @ 2:30 pm
2018-02-18T14:30:00-05:00
2018-02-18T14:45:00-05:00
Where:
Great Swamp
247 Southern Blvd Chatham Township
NJ
Maple Sugaring Demonstrations
At Great Swamp Outdoor Education Center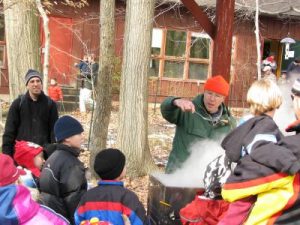 As the trees are tapped and the firewood is chopped – it's maple sugaring season at the Great Swamp Outdoor Education Center in Chatham Township! Join fascinating, hour-long, maple sugaring demonstrations!
Experience the entire process from tree to pancake-topping treat. Identify and tap maple trees, collect the flowing sap, and witness syrup making over a wood-fired evaporator. Best of all, taste-test the Great Swamp's own homemade syrup.
"People don't look at the maple syrup on their table the same way after experiencing the maple sugaring demonstration! They begin to appreciate the quality differences, as well as the process required to make this tasty treat," says Jenny Gaus-Myers, Assistant Director of Education and Interpretive Programs. "The demos are a fun and educational experience for everyone!"
Admission is $3 per person. No registration is required, but it is first come, first served seating. All demonstrations are held rain or shine. For more information and directions to the Great Swamp Outdoor Education Center, visit morrisparks.net or call 973.635.6629.